Genre – RnB // Hip // Hop // Soul
Hometown – Southampton, UK
Label – DIY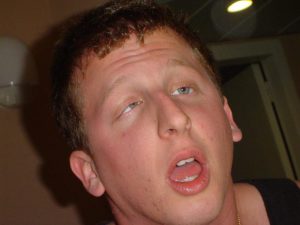 DAMN New Mantra! You music makes us tingle inside. Was OR is this intended?
Oh yeah, that was 100% intended from the beginning! Any feeling which makes people share and download the music is more than welcome though!
What is the venture behind New Mantra? give us a brief introduction as if you're trying to sell me a second-hand car.
Well I've always loved hip-hop and when I was about 15 I tried to make hip-hop beats, remixes etc but I didn't make anything that good, in fact it was all really really bad. Over the years I have always wanted to put a lot of time into music production but never really got round to it.
After thinking about it for some time, whilst on holiday last summer I thought to myself, when I get back home I'm going to try and make at least one song I'm proud of by the end of this year and that came in the form of // 'Know Me' // which is on the New Mantra X Barnaby EP. Since then I have created the collaboration EP with Barnaby and also have more planned for the future!
Interesting. As you commented on in the previous answer, you've recently collaborated with Barnaby on a four track EP. How did this come about? in the pub or at a meal for two?
Barnaby has been one of my best friends for years and if I'm honest, I don't know anyone as musically talented as him, he can honestly more or less do anything. Barnaby has been making music since he was about 15 and whilst discussing his musical future on holiday last summer he also made a pact to really get cracking with his music once he got home.
It wasn't planned at the time to do any songs together but as time went on, I would send Barnaby beats and he'd send things back. It was really exciting for me to hear someone sing over stuff I had created. It also wasn't planned to release a EP together but as time went on we had a couple songs we were really proud of, so subsequently decided to make an EP and make something more of it than just a single or two.
Where can we discover Barnaby's music?
He uploads all of his stuff to his Soundcloud page, keep an eye on it as I've heard what's to come and its awesome.
You do remixes! We love remixes! especially your interpretation of Alliyah's // Rock The Boat. How did you intend to take a different slant on an already great track?
I wanted to start doing remixes as the only way to move forward with my music, was to try and create things without always having a vocalist ready and waiting to sing over my stuff. I actually created the beat a long time ago and for some reason it never fit with other things I was trying to do with it.
Eventually I was on a night out and me and friend spoke about Alliyahs self titled record and how we had both really got into it again, that night my mind kinda sparked. I had sampled her voice for a track from mine and Barnaby's EP named // 'White Coat' // but this time I wanted to make a proper remix and the song and the beat went hand in hand.
Do you have any other plans in 2013? Fancy doing IMN a remix of our favourite track?
I want to create my own EP by the end of the year, which would include my own beats with sampled vocals etc. In my mind right now the EP is called // 'Tutankhaten' // and I'd say I have about 2 songs ready to go. Other than my own EP, I also have two songs I'm working on with Tom Hansford, who is an awesome singer and is the lead vocalist of band 13th Floor. I have a Jay Z X Foals remix also ready to go too, but I'm just not sure whether to put it out there or not.
I'm up for remixing one of your favourite tracks! Let me know what it is and ill give it a shot for sure!
We will. We like acts to listen to new independent/unsigned music. What do you think of this?
Production wise, sounds really nice and clean. Im just not a fan of that kinda music ya know?
Finally, we're always looking to expand our musical horizons. Do you have any recommendations of bands or artists we should be looking out for?
Honestly I know Southampton isn't known for having an great music scene, but some of the bands coming out of Southampton right now are honestly awesome. Barnaby would be the first one I'd recommend but also 13th Floor who are a r&b production and singer duo, they are good friends of mine and even supported them for there EP launch here in Southampton.
Lastly Shotaway are an indie rock band from the Southampton area, I've known these boys for a while and whenever they put there mind to something it always turns into something cool. So check all 3 of those acts out for sure, a lot of talent.